I've been working on a simple game with my son. Supposed to be about a penguin catching fish. I've adapted Craig Reynolds' algorithms for use with ORX (Scroll, actually), and I've posted a video demo of how the schooling looks: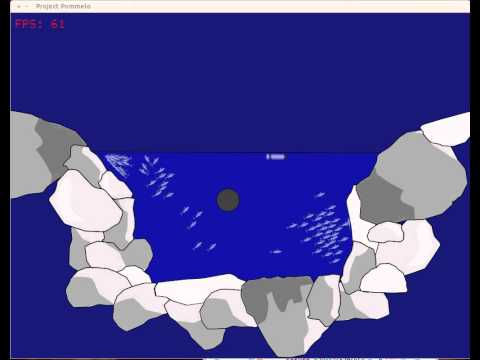 This video is only at 30fps, and for some reason YouTube made it really blurry; it looks pretty smooth in actuality.
The goal was a bit different from the classic Boids:
none
Better clumping and alignmentnone
Fish are more apt to turn in unison, as a groupnone
For
#1
, this was a matter of turning the 'align' weighting way up compared to the other parameters.
For
#2
, I implemented a raycast (thanks ROM!) to detect when a wall was coming up, creating a "persistent alignment" state, which is "contagious" for nearby fish. The end effect is that when one fish gets near a wall, most/all of the fish in the school will turn in unison away from the wall.
I can provide code if anyone is interested.